It all started when several businessmen, hungry to know God's word, came to Brother Gerry Holloway for Bible study.
After several weeks of study, these men were eager to bring their wives also, leading Brother Gerry and Sister Sue to open their home for a weekly Bible study. For two years this group met each week at their house in Bel-Air, Makati to worship and study God's Word.

As the group increased, it became evident that more people wanted to know about Christ, so the leaders decided it was time to start Sunday worship for people who loved God's Word. From the first service, the only name lifted up was Jesus. Since every group needs a name, Word for the World Christian Fellowship was chosen. The name was neutral, unthreatening, not confined to one locality; the world was their mission field.
In November 1980, a group of 40 people met in the Skytop at the Hotel Intercontinental – Makati, rejoicing as people came forward to be 'born again'.
After several months of growth, WWCF moved to the Grand Ballroom! There was such excitement to worship God and to learn from His Word. If the Grand Ballroom was not available, the Where Else Disco became a holy place on Sundays and Thursdays, with wall-to-wall people singing songs of love to God.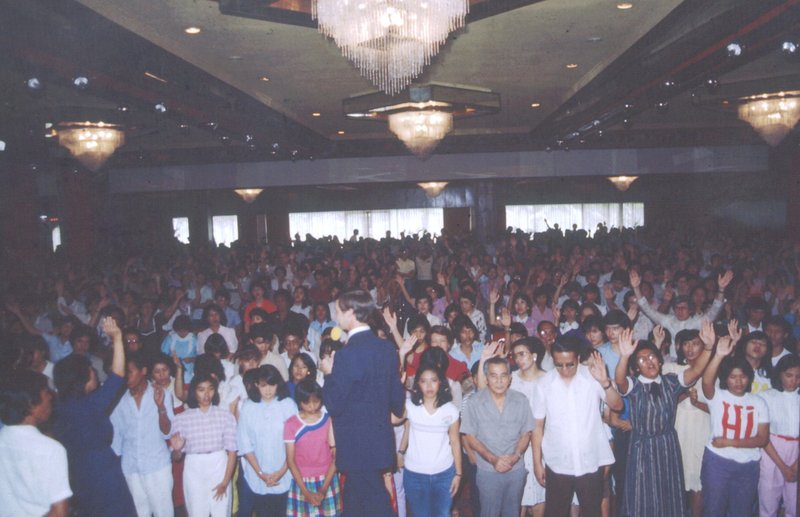 Ministries were organized to support both the worship and the congregation. The Music, Ladies, Children's, Youth, and Young Adults Ministries were soon followed by the Couples, Men's, and Singles Ministries, today totaling over 25 ministries in all.
The International Christian Academy was founded 1983-84 to provide a Bible-based education for the children.
The first provincial outreach was established in Bicol in 1984, and the first overseas mission endeavor was to Hong Kong in 1986.
Outgrowing the Hotel Intercontinental, WWCF moved to the Rizal Theater. Soon every seat, and even the steps, were filled to capacity.
People were hungry to worship and hear the Word. In 1989, when the Rizal Theater was demolished, WWCF was led to build its own house of worship. During construction, WWCF leased various cinemas and theaters simultaneously.
Finally, on January 14, 1990 Word for the World's new permanent Sanctuary in Salcedo Village, Makati was dedicated.
The Word for the World family was together again under one roof!
Word for the World has started more than 300 churches throughout the Philippines and the world. We continue to fulfill our prophetic name, with fellowships established throughout Asia, Australia, Europe, the Middle East, Canada, and even the U.S. Truly, we are bringing God's Word to His World.